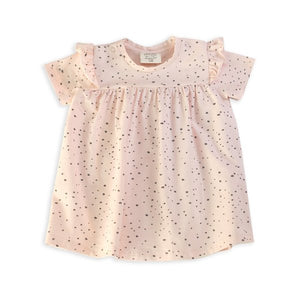 Stretch organic cotton short sleeve ruffle dress with matching bloomer for baby girls.
Sweet blush color base with light grey pebble print.
Ruffle detail with meticulous detailing.
Convenient snaps in the back of the dress and comfy fit bloomer included.
Super soft, comfy, lightweight & breathable, ideal for all-season wear.
Chemical free & non-toxic formulation, eco-friendly & sustainable.
Machine wash and dry.
Ethically produced in India, small farmer sourced cotton.
95% organic cotton jersey / 5% lycra stretch formulation for extra comfort.