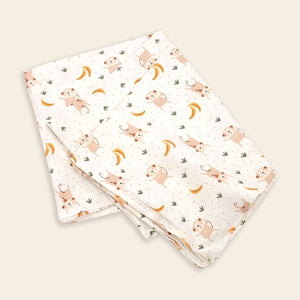 Organic, ultra soft baby clothes collection featuring our custom Monkey in the Woods print inspired by the Nature.
Swaddle blanket made from 100% organic cotton muslin.
Size: 47" x 47"
SUPER SOFT, lightweight, breathable, cozy, and comfy.
Digitally printed for extra softness.
Chemical free & non-toxic formulation, eco-friendly & sustainable.
Machine wash and dry, durable and long lasting.
Ethically produced in India from small farmer sourced organic cotton.