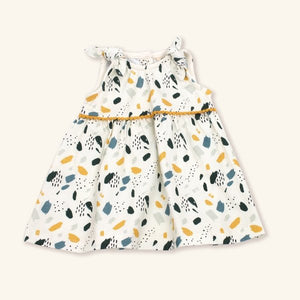 Ultra soft, organic cotton baby clothes collection featuring our custom Bloom print inspired by the delightful vibrant colors in Nature.
Sleeveless dress with shoulder knot detail, snap closure in the back.
Cute contrast pom pom trim detail in the front along the chest.
Ultra soft, lightweight, all-season, cozy and comfortable.
Digitally printed for extra softness.
Chemical free & non-toxic formulation, eco-friendly & sustainable.
Machine wash and dry, durable and long lasting.
Ethically produced in India from small farmer sourced cotton.
95% organic cotton jersey / 5% lycra stretch formulation for extra comfort.